Florence Crittenton is a relationship-based organization that provides family-centered support.
Through a comprehensive continuum of services, our programs offer an array of support and services to help families thrive. We believe that children should accompany their parents to treatment and that a family centered treatment approach is most effective in building a lasting foundation for young families.
Turn Your Compassion Into Action
A gift today will give a family a chance, the opportunity to grow and thrive, and create a bright future for our communities for years to come
DONATE NOW
Saturday, February 9, 2019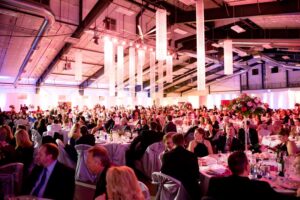 Paint the Town Pink is Florence Crittenton's largest fundraising event of the year, contributing up to $130,000 each year to our budget. The funds raised at PINK help Florence Crittenton provide the highest quality care to our most critical populations, marginalized families and their precious children. Every dime raised at PINK goes to make our communities in Lewis & Clark County and throughout Montana a better place for all of us, today and most importantly in the future!
THE EVENT
We are all about having fun and raising money at PINK! You can expect a top-notch night that will leave you feeling great about your community. Thanks to hundreds of volunteers, sponsors, and donors you will step into a truly transformed Fairgrounds that will take you to the most glamorous of evenings fit for the big city!
Hosted cocktails and hors d' oeuvres will greet you, with time to chat with friends and peruse our high quality silent auction items. Once seated we will get the show started with a fabulous meal, incredible speakers and a fast-paced, high-energy Live Auction. End your evening dancing the night away…this is truly one of the best nights on the town!
TICKETS
Tickets are $125/person or $1,100 for a table of 10. Your ticket price includes a gourmet meal, appetizers, hosted bar, and music.  Tickets go on sale December, 2018.
If you are interested in donating auction items, sponsoring the event, or volunteering please contact the Development office at 406.442.6950 x255, or [email protected]
A LETTER FROM JULIA
Dear Florence Crittenton Staff, Before I came here I was in a bad place in many different ways, most of which you all know about. I was a very damaged person about to bring a baby into the world and I was very scared even if I never told anyone. After I got here I was still scared of just about everything including being around all of you knowing that one...
Read More
About Florence Crittenton
Meet Florence
Florence Crittenton's History
It all started with a little girl called Florence. Florence (affectionately known as Flossie) was born to Charles and Josephine Crittenton in 1877. Tragically, at age five, she…
Our People
Our Staff and Board
Florence Crittenton's work is made possible by the talent, dedication and inspiration of our people. Our team brings a wealth of experience and strives to provide exceptional…
Employment
Come Work With Us!
Our employees, our experience and our expertise are at the heart of everything we do at Florence Crittenton. Across every department we are working towards the same…
Receive quarterly updates and learn all about the lives changed by Florence Crittenton