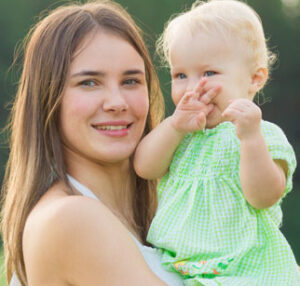 Before I arrived in the loving arms of the Florence Crittenton Home I was a hurting, scared little girl who was only a shadow of herself. I was only eight months clean from meth, which was my way of coping with the pain I was feeling. I received daily beatings with a bat which hurt… but the emotional abuse dug deeper into my soul. Constantly being told I would never amount to anything, I was not loved, I did not belong anywhere; my life felt worthless. The two people in my world who were supposed to protect me and be my safety net were just the opposite. I was alone. The environment I had to live in was unsanitary and unhealthy as well.
I arrived at Florence in so much pain and with my two day old daughter. I had no desire to live, only to be freed of the pain. My years at the home were difficult but I found in time I would learn to live. There were days in which I lost my privileges but there were also the days I received all my privileges and found my successes. I have learned all of us make choices and have consequences for them, both the good and the bad. Shortly after leaving the home I made a choice, I gave my two year old daughter a chance to have the childhood I never got and gave her to a loving family.
Now that I have been out of the home for eight years I have set certain goals in which I am determined to complete. One in which I would like to become a counselor. I already have my associate's degree in psychology and am enrolled in the bachelors program. I have a loving husband of 6 years. In 2006, Florence Crittenton gave us the most extraordinary wedding. The wedding officially helped me draw out my path. I could have chosen to follow the dysfunction and pain in which my relatives had laid out for me, or I could choose to give a voice to other abuse survivors, teens, and young moms; bringing them hope and giving them strength. Well, I chose to be the voice. Florence Crittenton has shown me a better world and given me a family – such as my mother figures like; Sarah Smith, Joan Fitzgerald, and Barb Burton to name a few.
If you had asked me ten years ago were I see myself in ten years I would have said "dead." I did not believe my life was worth saving and was convinced I was going to die. Today, I have the sweetest son and we have an incredible relationship. I have a loving husband, a home, and a bright future.
I will be a part of the same community which has given me so much courage, strength, and hope.