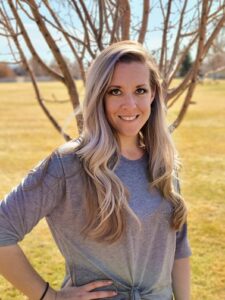 Kara Brockett serves Florence Crittenton as the Admissions Coordinator. Kara graduated from Park University in 2016 with her bachelor's degree in Healthcare Management.  She has worked in the healthcare field for most of her career as a Certified Nurse's Assistant and Medical Support Assistant at the VA here in Montana. She decided to move into a field more rewarding and meaningful to her.
Kara's driving force is her husband and 3 children aged 10, 7, and 5 that are her world. She knew from a young age she wanted to be a mother, and she is now living her dream. She believes the Helena community is a wonderful community to raise children in, there is support from every angle, someone always willing to help. She enjoys working part-time to balance work and family. During her free time when Kara isn't cleaning and folding laundry she loves getting her children outside on adventures, hiking, fishing, camping and her sons favorite…skipping rocks at the lake.
Her desire has always been to help people, specifically pregnant and nursing mothers. She has such a passion for young families and desire to empower mothers and young families so that they can reach their full God given potential. Coming to Florence Crittenton has been a beautiful transition in career and allows her to fill this passion. She is excited to continue growing in such a great organization and bonding with the team and the clients. It is an honor for her to be the first line of contact for women in need of help or in crisis.