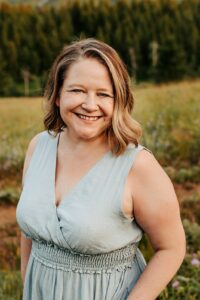 Jen's passion for children began at a very young age.  As a little girl anytime she was asked what she wanted to be when she grew up her answer was always the same; "I am going to be a mom when I grow up."  Little did Jen know that her goal of becoming a mother would happen much sooner in her life than she anticipated.  In fact, she was only seventeen and a senior in high school when she found out she was expecting her first child.  Jen graduated high school married, and with an infant in her arms. In many ways, her goal that she set years before as a young child had been achieved.  She had become a mother, and the joy that it brought to her life was immeasurable.  However, it didn't take long for Jen to realize that her passion for children ran deeper than just parenting her own.
By the time she was twenty-five, Jen and her husband had four children. She continued working with children and families in a variety of atmospheres, primarily focusing on early childhood education. Working with families opened her eyes to the fact that every parent struggles, questions their ability; and many days feel as if they are failing. If additional factors such as; single parenting, teen parenting, addiction, poverty, or abuse are present the task of raising children and believing in yourself as a parent is often overwhelming.  In 2013, Jen realized that her passion wasn't working with children, it was working with families and helping parents break generational cycles, and to provide hope in the darkest places.  She decided to continue her education and earn a degree that would allow her to work with families and young children on a deeper level.
Ms. Burckhard began her work at Florence Crittenton in 2015; providing in home education, parenting support, and vital resources to Helena community families and their children ages 0-5. She is also one of three certified SafeCare Trainers in the state of Montana, providing training,  guidance and support to other home visitors who provide services in their respective communities across the state.  Jen is excited to continue  many more years of supporting Florence Crittenton's mission to ensure all families have the best start and are able to thrive in a demanding world.