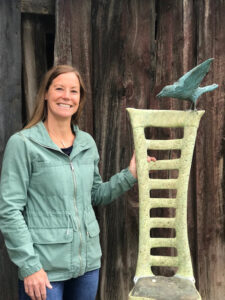 Amanda Steichen joined Florence Crittenton in June 2019 as a Parents as Teachers Home Visitor. She and her  family moved from Great Falls to Helena in 2008 and it didn't take long for them to fall in love with the community. Amanda had three children soon after getting married and with her husband in the military often found herself being a single parent. Knowing the struggles of being a young mom and oftentimes doing it alone she
is excited to be able to help families in the community develop parenting skills and build strong bonds with their kids.
Amanda was able to stay home with her kids while they were young but as they grew older she knew she needed to do something for herself.  In 2014 she enrolled at Helena College after being out of school for 16 years. Not sure where her education would take her she quickly found an interest in Psychology and took every class that she could. When the University of Montana partnered with Helena College to offer an online Social Work degree she knew that was the path to take. Amanda graduated with her Bachelor's in Social Work in May 2019. She plans to pursue her Master's degree in Social work in 2021.