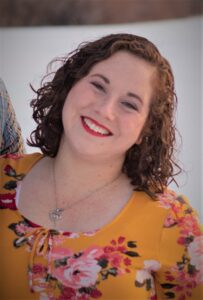 Meaghan joined Florence Crittenton in 2020 as a family centered aide in our residential programs and then transitioned to the position of Early Childhood Parenting Specialist. She quickly fell in love with the core values of the organization and working with clients and children. She has always wanted to work helping others and trying bring light to others. She has worked as a Certified Nursing Assistant and taught Junior/Senior High band at a rural school for two years.
Her passions in life include her husband, her beautiful kids, church, and music. Whether it involves singing, playing random chords on a piano, or playing the air drums, Meaghan believes music can help in all areas of her life and the lives of others. She is committed to not only share joy with others, but help them through the hard things like music has done for her.
Coming to Florence Crittenton was one of the best things she feels she has done since her family moved to Helena from Simla, CO. Not only has she found a family she loves beyond description in the coworkers and clients, but a work that is most essential in relation to what she believes is God's plan.