Categories
Events
Love and Logic Classes Start May 6th
Thursday, May 6, 2021
Our next Love & Logic Classes for parent with children of all ages start next Thursday May 6th from – 5.30-7.30pm at Helena College.
The Love and Logic approach to parenting is built around the science of caring and respectful relationships. An authentic, loving connection between parents and their children forms the foundation of good behavior and healthy decision-making.
Sounds easy enough but never before in history have parents been faced with so many challenges! The Love & Logic approach provides a variety of simple and effective strategies for parenting children from birth to adulthood. Whether you're embarking for the first time with your new baby or navigating the turbulent teens with your child, our strategies and techniques will help you create calm and loving solutions.
Classes run May 6th – June 17th
5.30 – 7.30pm
Venue: Helena College
Masks and social distancing are required
Clothing Drive
Saturday, May 1, 2021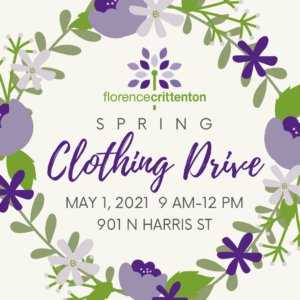 Spring has finally arrived! If you're doing some spring cleaning, consider donating your gently used women and children's clothing to Florence Crittenton! Due to COVID-19, we had to limit our intake of used items over the past year and that has left our clothing closet in serious need of some updates. We are particularly in need of Women's clothing size Large and up, Maternity clothes size Large and up (specifically summer clothes and leggings), women's sneakers size 7 and up, and children's clothing up to size 5T.
We will be accepting donations at the home from 9 AM to 12 PM on Saturday May 1st ONLY. We cannot accept items with stains, holes, or odors.
We hope to see you there and thank you for supporting our young families!
For more information, contact Savannah Cribbs Grants and In-Kind Manager at 406-442-6950 x 216 or [email protected]