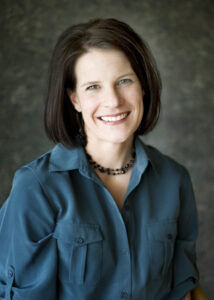 Florence Crittenton's Board of Directors is pleased to announce that following an extensive search Carrie Krepps has been chosen as the new Executive Director.  Carrie joined Florence Crittenton in March, 2010 as the Grants Officer.  She quickly fell in love with the work and the organization and moved to the Development Director in 2011, a position she has held since. Prior to her time here, Carrie was the Education Coordinator for the Montana Hospital Association. Her extensive experience in development work and project management includes time with the Helena Symphony, as well as the Assistant Director of Development and Director of Gameday Operations with the Montana State University Athletic Department in Bozeman.
During her time as the Development Director, Carrie worked closely with budget management, fund and contract development, and advocacy on several levels for Florence Crittenton.  She has worked on the integrated Leadership team at Florence Crittenton, and has gained extensive knowledge regarding the critical work of caring for families in an integrated family-centric treatment model.  Carrie built a fundraising department that has grown from raising $500,000 to nearly $1 million annually.
Carrie holds a Business Marketing degree and minor in Small Business from MSU-Bozeman.   She is passionate about ensuring every family has the opportunity to raise their children in a loving environment.  Raised by small business owner parents, she loves the "business side" of connecting this passion with partnerships across the state. Carrie is a Helena native and enjoys raising her two daughters with her husband back in her hometown.
"I am thrilled and humbled by the honor and opportunity to serve as the next Executive Director at Florence Crittenton.  I join a list of incredible individuals that have led this organization through over a century serving our most vulnerable families in Montana.  Being a part of this organization for almost a decade has given me a great perspective on the work that must be done every day to ensure families have every opportunity to heal, grow, and be thriving members of our communities.  I want to thank the Board of Directors for conducting a thorough search, and for the incredible work Barb Burton has done serving this organization and our community over the last 20+ years.  She has been a role model to so many of us and a leader in our organization and the human services industry.  I am so excited to work with our amazing staff, partners, and donors to take Florence Crittenton into its next chapter. "
Sarah Corbally, Florence Crittenton's Board President said, "The Board of Directors is extremely pleased that Carrie has accepted the Executive Director position.  We are confident that we have chosen the best person for this important job.  Her proven dedication to our mission is inspiring and her work is top notch!  We look forward to a bright future for the organization with her at the head.  We are also grateful to Barb for her work as the Executive Director for so many successful years.  The Board is confident that the transition in leadership will be a smooth one for the families we serve; as well as, our many partners across the state".
Carrie will assume the role of Executive Director on July 1st.  Barbara Burton, current Executive Director will stay on during the transition to assist. Her last day will be August 30.  A celebration for Barbara will be held in September.