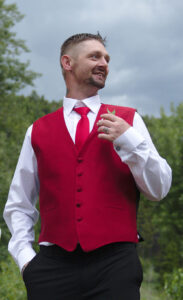 Chris is originally from Bozeman but has lived in Helena since 2014. He moved to Helena to attend Carroll College where he graduated with a Bachelor's Degree in Psychology and Sociology with an emphasis is Criminology. Chris also holds a Graduate Certificate in Addiction Counseling from Montana State University. Throughout all his studies Chris and his wife have also been raising 3 wonderful children.
Chris previously worked for Florence Crittenton as a Family Centered Aide.  He liked the mission and the culture so much that he made it a point to go back as soon as he completed his studies. Chris was raised by a single mother, so has an enormous gratitude and empathy towards all single mothers in the world. He believes everyone deserves a second chance and that through hard work, compassion and understanding every individual can reach out and take their lives back.
In his spare time Chris enjoys spending time with his family in the beautiful Montana outdoors, skiing, boating, taking vacations and fixing things around the house.