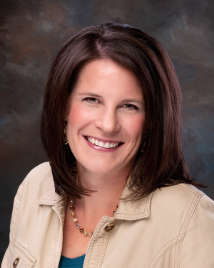 Carrie joined Florence Crittenton in March, 2010 as the Grants Officer.  She quickly fell in love with the work and the organization and moved to the Development Director in 2001, a position she kept for 8 years. Carrie accepted the role of Executive Director in July of 2019.
Prior to her time here, Carrie was the Education Coordinator for the Montana Hospital Association. Her extensive experience in development work and project management includes time with the Helena Symphony, as well as the Assistant Director of Development and Director of Gameday Operations with the Montana State University Athletic Department in Bozeman.
Throughout her tenure at Florence Crittenton Carrie has worked closely with budget management, fund and contract development, and advocacy on several levels for Florence Crittenton.  In her current role she leads the integrated Leadership team at Florence Crittenton and guides the organization's mission through her work with the Board of Directors and staff. Over her 10 years, Carrie has gain extensive knowledge regarding the critical work of caring for families in an integrated family-centric treatment model.
Carrie holds a Business Marketing degree and minor in Small Business & Entrepreneurship from Montana State University-Bozeman.   She is passionate about ensuring every family has the opportunity to raise their children in a loving environment.  Raised by small business owner parents, she loves the "business side" of connecting this passion with partnerships across the state and strong business practices. Carrie is a Helena native and loves raising her two daughters, Ella and Sarah, with her husband, Fred Krepps, back in her hometown.