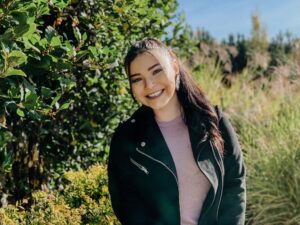 Amanda is originally from Great Falls, Montana and is an enrolled member of the Ft. Belknap Tribe of Montana with family ties to two of Montana's Tribal communities – the Blackfeet Nation by way of her mother and the Fort Belknap Tribe by way of her father. Before moving back to Montana in 2022, Amanda previously called Helena home. She attended classes at Helena High School, served as a Montana Ambassador for the Arthritis Foundation, and volunteered as a camp counselor for Camp Limber Limbs – a camp for kids with Rheumatoid Arthritis that took place in Gold Creek, Montana. Amanda then attended college in Coeur d'Alene, Idaho and graduated with a Bachelor of Science in Non-Profit management from the University of Idaho.
Amanda brings 8 years of experience providing direct care, support and case management to children, women and families in crisis. Prior to joining Florence Crittenton, she served as the Transitional Housing Case Manager for a large non-profit in the metropolitan area of Phoenix, Arizona where she assisted families in overcoming barriers related to homelessness and employment.
Amanda has a passion for helping others and is excited to continue working for families in crisis – providing parenting skills, resources, and guiding young mothers on their path to success.